This greek yogurt beef stroganoff is every bit as creamy and comforting as normal beef stroganoff, but I replaced the sour cream with greek yogurt. It's slightly healthier, higher in protein, and extra tangy and delicious. Best of all, it's super easy and fast.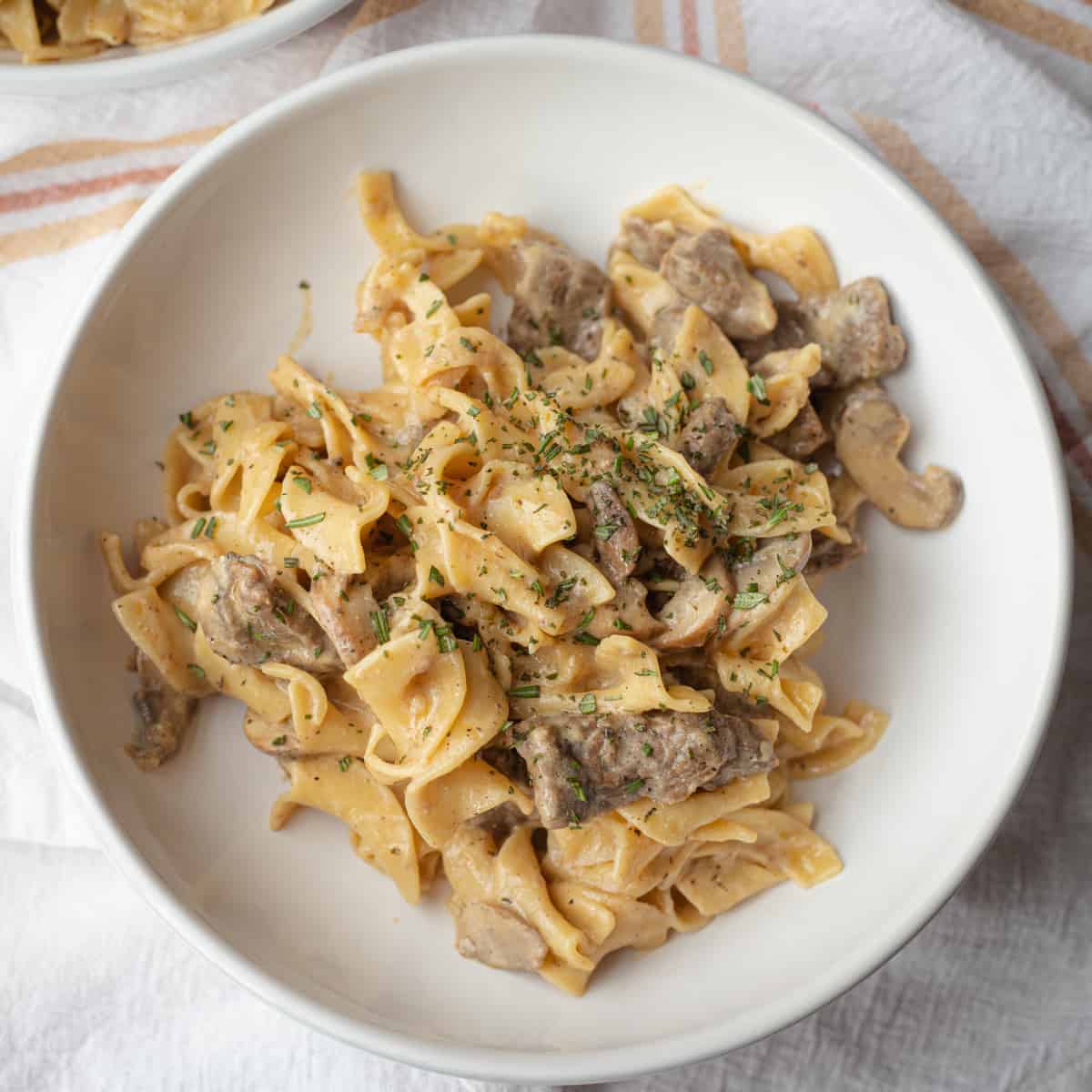 Beef stroganoff is a great winter meal because it's so comforting and warm. I love making this on dreary days and pairing it with a familiar movie next to the fire. Looking for other comfort meals? Try our Spicy Sausage Pasta or Turkey Lasagna Soup.
Jump to:
Key Ingredients
Top sirloin steak- You can use whatever cut of steak you like (or have on hand). We like top sirloin because it's usually not super expensive but isn't as tough as some cheaper cuts.
Pineapple juice- This is for the steak marinade. Pineapple juice adds a nice tanginess to this recipe, but it also has an enzyme that helps break down meat, which makes the steak so much more tender.
Mushrooms- We like baby bellas, but use your favorite.
Egg noodles
Greek yogurt- We use whole milk greek yogurt for the creaminess.
Other ingredients: Cornstarch, italian seasoning, garlic powder, dijon mustard, soy sauce, Worcestershire sauce, fresh garlic, hot sauce, butter, salt, and black pepper.
Instructions
Step 1: Trim any large sections of fat off of your round steak. Tenderize with a meat tenderizer, then slice it against the grain into quarter of an inch thick slices. Place the slices into a gallon baggie or into a deep baking dish (make sure whatever you use fits into your fridge!).
Step 2: Add the marinade ingredients to the baggie or baking dish with the steak. Mix everything together, seal the bag (or cover the dish), and place in the fridge for at least an hour (and up to 24 hours).
Step 3: Once the steak is done marinating, cook the egg noodles according to package instructions. Set aside.
Step 4: Remove the steak from the fridge and discard the marinade. Melt butter in a large pan over medium-low heat. Add the steak and cook for 2 minutes, stirring halfway through so it cooks evenly. Don't let the pan get too hot or the butter will burn.
Step 5: Add cornstarch and water to a small bowl and mix to combine. Ensure that no clumps remain.
Step 6: Add the garlic and cook for one minute, then add the mushrooms, Worcestershire sauce, salt, pepper, garlic powder, dijon, and cornstarch mixture. Cook for about 10 minutes, or until the liquid thickens slightly. Then remove the pan from the heat.
Step 7: Combine the steak and mushroom mixture with the cooked egg noodles, then add the greek yogurt. Mix to combine. Make sure you don't add the greek yogurt while the pan is still over the heat, or it will curdle.
Frequently asked questions
Can I use sour cream instead of greek yogurt?
You can! If you don't like greek yogurt and you'd rather make this the more common way, swap out the greek yogurt for sour cream using a 1-1 ratio.
Can I use a different kind of steak?
Yes! We use top sirloin because it's usually somewhat affordable but not as tough as some cheaper cuts. Any cut of steak will work, though. Flank steak, round steak, or even stew meat would all work just fine.
Can I reheat this stroganoff?
Yep! We love these leftovers! We just heat ours in the microwave until warm, but you could also reheat it in a pan with a little bit of beef broth if it's too dry.