These cookies were inspired by the Crumbl Pumpkin Chocolate Chip Cookie, and they're every bit as soft, thick, chewy, and delicious. They're full of delicious pumpkin spice fall flavors and super easy to make.
Jump to:
We were gifted a box of Crumbl cookies when we got home from the hospital with our baby girl, and one of the cookies was pumpkin chocolate chip. Michael and I both fell in love and asked my mom (the cookie queen) to recreate it. And boy, did she deliver. These soft pumpkin chocolate chip cookies are thick and chewy--almost like cake. They have the perfect amount of pumpkin spice flavor without being over the top, and they're so so moist and delicious.
If you're looking for other cookie recipes, try our Vegan Maple Sugar Cookies with Maple Glaze or Gooey Chocolate Stuffed Cookie Bars. If you're looking for another great fall dessert, try our Sheet Pan Carrot Cake Bars with Cream Cheese Frosting.
Key Ingredients
Canned pumpkin
Ground cinnamon
Pumpkin pie spice
Dark chocolate chips - you can substitute regular chocolate chips if that's what you prefer or have on hand.
And your typical cookie ingredients: unsalted butter, sugar, eggs, flour, baking powder, baking soda, and salt.
See recipe card for amounts.
Instructions
Step 1: In a large bowl or in the bowl of your stand mixer, cream together the butter and sugar with a hand or stand mixer. Then add the egg and mix well. Add the pumpkin and mix until combined.
Step 2: In a separate large bowl, mix the flour, baking powder, baking soda, cinnamon, pumpkin pie spice and salt. Gradually add the flour mixture to the bowl with the pumpkin mixture. Mix on medium speed until well combined, about 2 minutes. Then add the chocolate chips and mix until combined.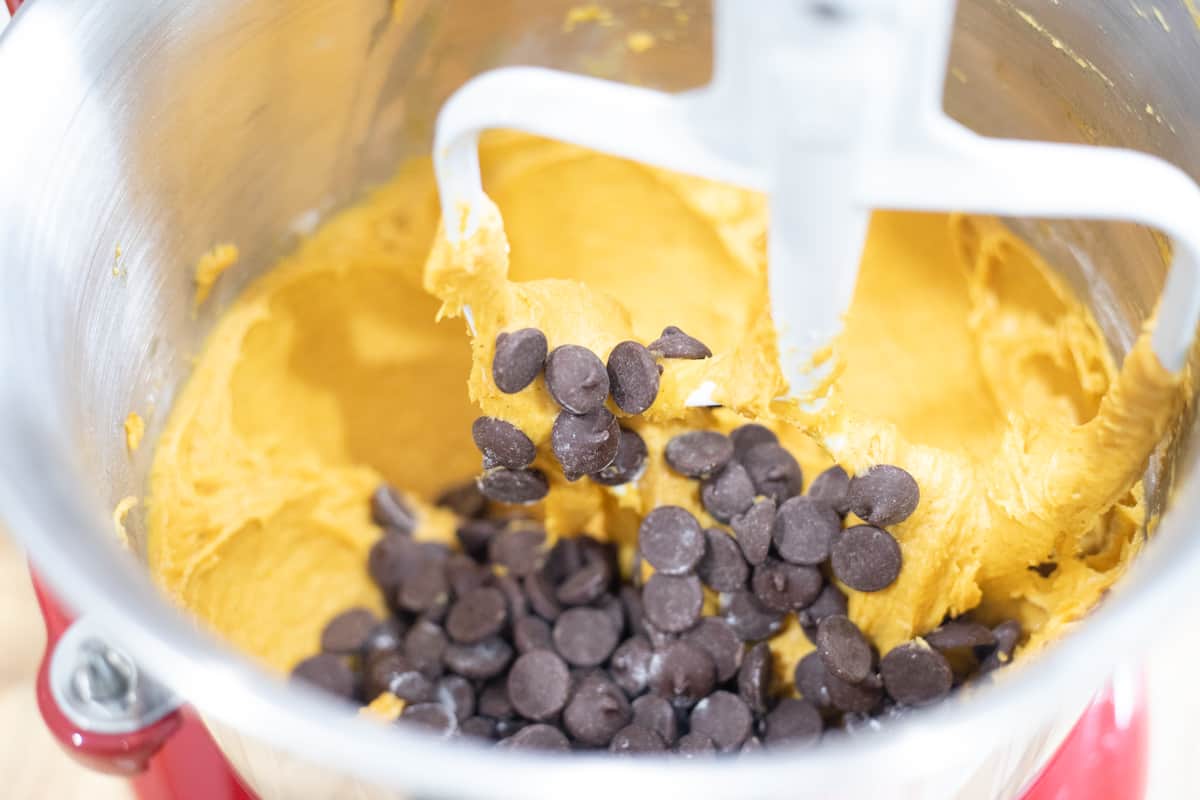 Step 3: Scoop dough onto a baking sheet with a large cookie scoop or spoon. Bake at 375°F for 7 minutes on the bottom oven rack, then move to the top oven rack and bake for another 7 minutes. Let cool, then enjoy!
Optional add-ins
These cookies are great as-is, but you could also add any of the following for some extra flavor, or swap out the chocolate chips:
Chopped nuts--pecans are great in these cookies
Dried cranberries (craisins)
White chocolate chips
Just add the extra ingredients when you add the chocolate chips to the dough.
Frequently asked questions
Are these cookies flat or puffy?
These cookies are extremely puffy and almost have a cake-like texture. They are not flat or even remotely crunchy-they're super thick, soft, and chewy.
Do I have to use dark chocolate chips?
Nope! The dark chocolate goes really well with the pumpkin, but you can use semi-sweet, milk chocolate, or even white chocolate chips instead. If chocolate isn't your thing, you can omit them altogether and try craisins or nuts instead.
Do I have to use an electric mixer?
No-you can hand mix. Just make sure you combine everything well.