These air fryer salmon bites are so easy and delicious. We coat them in a homemade BBQ-inspired rub and air fry them to caramelized perfection. Pair them with rice and an optional mango salsa for the perfect weeknight dinner.
These air fryer salmon bites take less than 10 minutes and create almost no mess. They're the perfect healthy weeknight dinner. We pair ours with rice (you can even use the frozen microwavable bags to make it quicker!) and a quick homemade mango salsa, but you can eat yours however you want. These would be great with vegetables on the side too!
Looking for other salmon recipes? Try our salmon in a creamy dijon sauce, BBQ salmon bowls, pesto salmon with tomatoes, or one-pan spinach and artichoke salmon.
Jump to:
Key Ingredients and Substitutions
For the salmon bites:
Salmon- We prefer the taste (and health and environmental benefits) of wild-caught salmon. Use whatever you prefer. If you use frozen salmon, make sure it's completely defrosted before cooking.
Olive oil
Seasonings- Brown sugar, paprika, onion powder, garlic powder, mustard powder, ground cayenne, salt, and black pepper
For the optional mango salsa:
Mango- We use fresh mango, but you can get pre-cut mango from the refrigerated produce section to speed things up.
Red onion
Fresh jalapeño- If you don't like spicy food, look for mild or heatless jalapeños.
Cilantro
Lime juice- We use fresh lime juice, but the bottled stuff will work too.
Spices- salt
See recipe card for amounts.
Instructions
Step 1: Place cubes of salmon in a large mixing bowl. Add olive oil, brown sugar, paprika, salt, black pepper, onion powder, garlic powder, mustard powder, and ground cayenne, and mix to combine.
Step 2: Place the salmon in the basket of your air fryer and air fry at 400°F for 7-9 minutes, or until the salmon is cooked through and browned slightly on the outside. Stop the air fryer around the 4 minute mark to shake the basket and redistribute the salmon.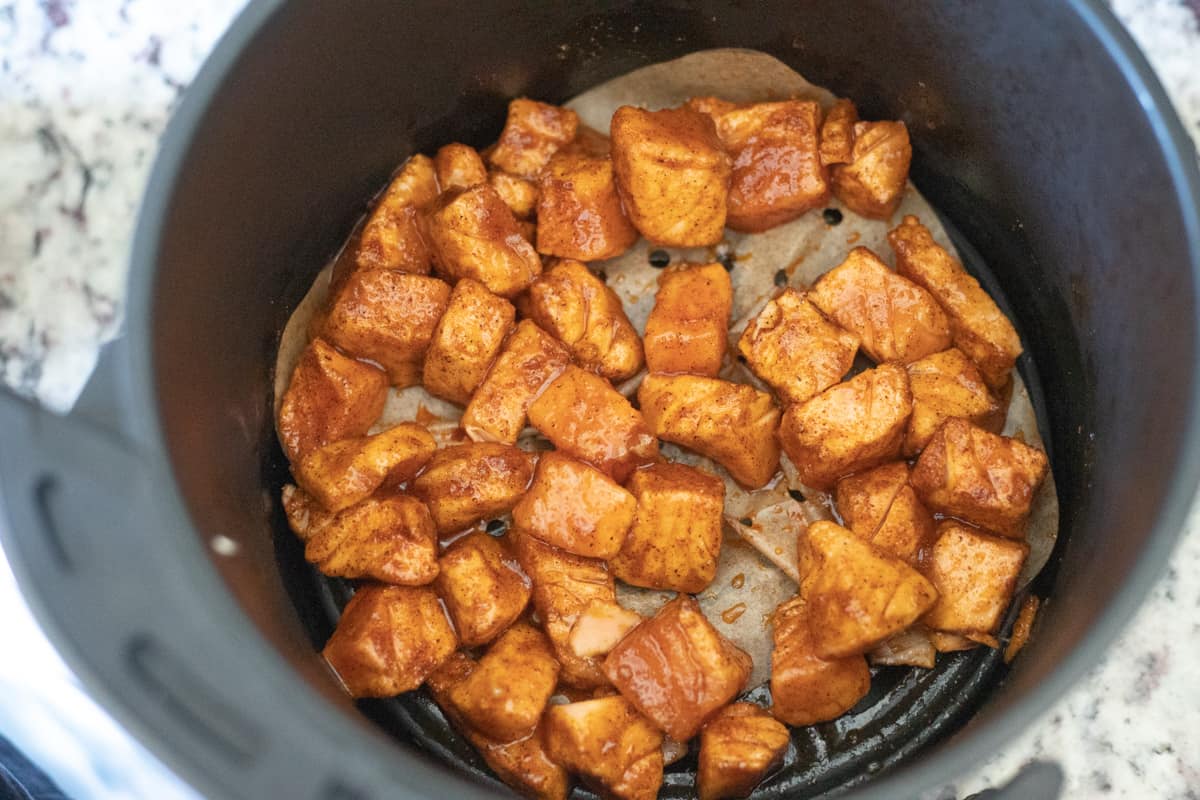 Step 3 (optional): We like to serve our salmon bites with a simple mango salsa. If you feel so inclined, combine mango, jalapeño, lime juice, cilantro, and red onion in a medium mixing bowl.
Step 4: Serve! We add rice to a bowl, then top it with these air fryer salmon bites and mango salsa. You can eat yours however you want!
Serving ideas
We serve our air fryer salmon bites with mango salsa and rice. Here are some other ideas:
Eat them like they're BBQ! Top your salmon bites with BBQ sauce and serve them with baked beans, potato salad, and coleslaw.
Enjoy them in a taco. They'd be great in a corn tortilla with shredded cabbage, pickled onions, and our cilantro lime aioli.
Serve them on a salad! Our classic wedge salad would be perfect for the BBQ-inspired flavors on this salmon!
Frequently asked questions
Can I line my air fryer basket with something to keep it clean?
We line our air fryer basket with disposable paper liners, but it still gets a little bit dirty. You can also try silicone liners or aluminum foil (if your air fryer allows it). Just keep in mind that covering the bottom of your air fryer may affect the way your salmon cooks.
My salmon isn't browning. What am I doing wrong?
If your salmon isn't browning or doesn't seem done in the allotted cook time, then try cooking it longer or spacing your salmon out more in the basket. If you have a small air fryer basket, you may have to cook your salmon in batches. The salmon bites cook the best when they aren't crowded and touching each either.
How do I store and reheat this salmon?
Store the salmon in an air-tight container in the refrigerator for up to 3 days. To reheat, pop it in the air fryer at 400°F for 2-3 minutes.