This horseradish cauliflower mash pairs well with steak, fish, or chicken. It has the perfect level of bite, is super creamy, and tastes just like horseradish mashed potatoes, but without all the carbs and heaviness.
This mashed cauliflower with horseradish is so creamy you won't even know it's cauliflower. There's no cauliflower aftertaste, and the horseradish is spicy but not overwhelming. It's also super easy--you just have to boil cauliflower, then puree it with butter, horseradish, salt, and pepper. It's the perfect easy low-carb side dish for steak, chicken, or fish.
This cauliflower is great with fish, chicken, or steak. Try it with our marinated pan-seared chicken breast.
Jump to:
Key Ingredients and Substitutions
Cauliflower- You can find this in the produce section of most grocery stores. It tastes very similar to regular cauliflower, but has a slightly stronger flavor.
Butter (or ghee for Whole30/Paleo/dairy free)
Prepared horseradish- If you can't find prepared horseradish or don't have any on hand, wasabi would be a good substitute. Start with a little bit and add more to taste. It's a little bit stronger in flavor than horseradish.
Salt
Black pepper
Step-by-Step Instructions
Step 1: Add cauliflower florets to a medium or large saucepan and add enough water to cover the cauliflower. Add a generous pinch of salt to the water, put the pot over high heat, and bring to a boil. Cook the cauliflower until it's tender and easy to pierce with a fork, about 20 minutes.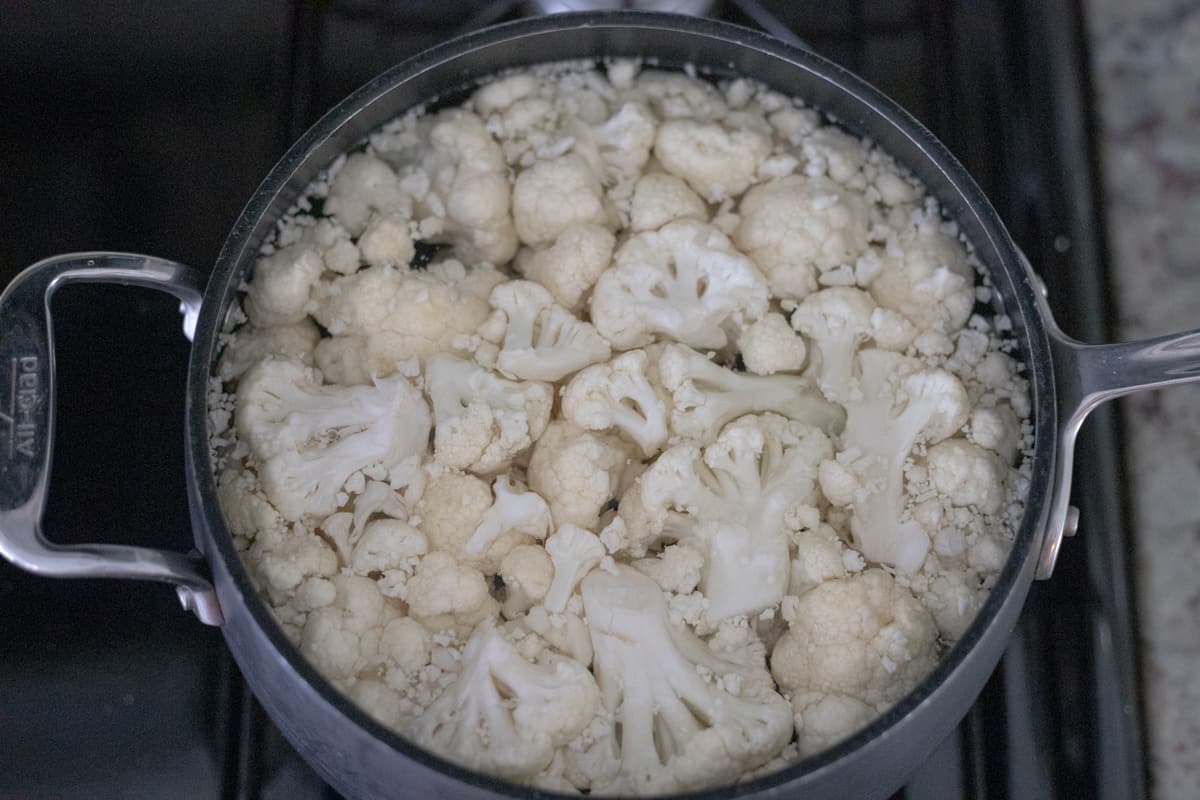 Step 2: Once the cauliflower is done, drain the water and add the cauliflower back to the pan. Add butter, prepared horseradish, salt, and pepper, and mix until the butter melts.
Step 3: Use an immersion blender to blend the cauliflower until it's smooth. If you don't have an immersion blender, place the cauliflower in a blender or food processor and blend until it reaches your desired consistency.
Frequently asked questions
Can I use wasabi instead of horseradish?
Yes! Follow the same instructions, but add wasabi instead of horseradish. Start with a little bit and add more to taste. Wasabi is a little stronger in taste than horseradish.
How do I store this cauliflower mash?
Store this horseradish cauliflower mash in an air-tight container in the refrigerator for up to 4 days. Reheat in the microwave for about a minute.
My cauliflower isn't getting tender. What do I do?
If your cauliflower isn't quite tender after 20 minutes, just cook it a bit longer. After 25 minutes or so, it should definitely be tender and ready to puree.
More Cauliflower Recipes
Looking for other creative ways to use cauliflower? Try these: