It's been a super busy fall at our house, so last time we were at Costco we picked up several easy-to-cook meals, including a two-pack of Kirkland five cheese tortellini. It's the kind of thing I usually wouldn't buy, but I made it into this mushroom and ricotta cheese tortellini, and I've gotta say....I really enjoyed it. I added extra cheese to the top and then baked it, which gives it extra cozy vibes. I also made it in less than half an hour, so it's the perfect vegetarian weeknight meal.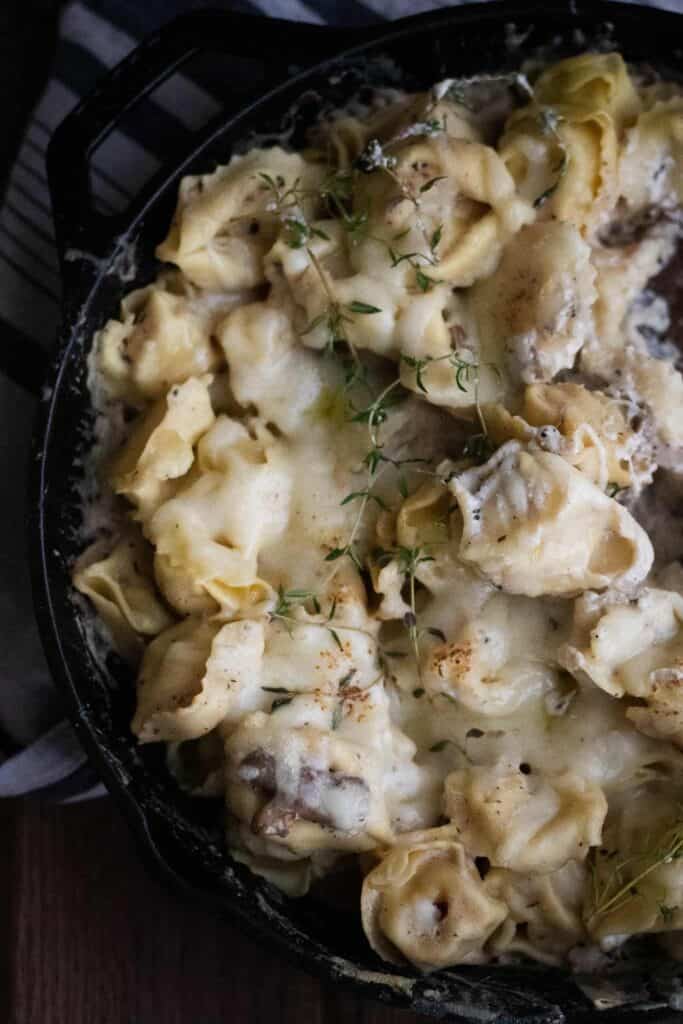 Here's what you'll need for this mushroom and ricotta cheese tortellini.
Cheese Tortellini or ravioli ($2.98). I got five cheese tortellini at Costco, but you can find tortellini at most grocery stores (usually in the refrigerated or frozen sections). Trader Joe's tortellini is also good! In a pinch, ravioli would work too.
Baby bella mushrooms ($2.54). You can use your favorite type of mushroom--I like that baby bellas are fairly inexpensive, accessible, and tasty.
Ricotta cheese ($1.74). This recipe works best with whole-milk ricotta.
Garlic ($0.46)
Parmesan cheese ($4.12). Fresh parmesan is best, but pre-grated will work (just don't use the powdery stuff!).
Lemon ($0.56)
Gruyere or gouda cheese ($1.86). I prefer gruyere, but it can be hard to find and expensive. Gouda is a good alternative. If you have trouble accessing either, I'd try Swiss or provolone next. Trader Joe's has a great American gruyere that's a little cheaper than the Swiss stuff, and Costco sells a big block of gruyere for a pretty good price.
Typical fridge and pantry ingredients: Butter, dried basil, dried thyme, crushed red pepper, olive oil, salt, and black pepper.
Excluding the typical pantry and fridge ingredients, the ingredients for this ricotta cheese tortellini cost around $14.26, or about $3.57 per serving.
Here's how you make it.
Preheat your oven to 400 degrees.
Cook the tortellini (or ravioli) according to package instructions. Reserve a half a cup of pasta water before draining the pasta.
In a medium mixing bowl, combine ricotta, olive oil, salt, black pepper, parmesan cheese, and lemon juice. Set aside.
Heat a cast-iron or oven-safe pan over medium heat. Melt butter, then add mushrooms, dried basil, dried thyme, and crushed red pepper. Cook, stirring frequently, until the mushrooms are browned, about 4-5 minutes.
Once the mushrooms are done, reduce the heat to low and add garlic. Cook until fragrant, about 30 seconds. Then add half of the reserved pasta water (about ¼ a cup) and the ricotta mixture. Cook until smooth and creamy, about 2 minutes.
Add the drained tortellini to the pan with the sauce and stir to combine. Then add gruyere or gouda to the top and bake, uncovered, until the cheese is melted and bubbly, about 10 minutes.
What if I don't have an oven-safe pan?
If you don't have a cast-iron or oven-safe pan, use whatever pan you have, then transfer the pasta to a baking dish before putting it into the oven.
If you like this, you should also try...