This roasted red pepper tortellini takes store-bought tortellini to the next level. It's coated in a super easy homemade creamy red pepper and tomato sauce and is so so tasty. There's no oven or roasting involved, so it's the perfect easy weeknight meal.
This roasted red pepper tortellini is made with store-bought tortellini, pan-roasted tomatoes and red peppers, fresh basil, and lots of delicious fresh parmesan cheese. You could add a protein to bulk it up, or serve it as a vegetarian dish.
If you're looking for other ways to use your store-bought tortellini, try our Creamy Parmesan Tortellini with Tomatoes or Mushroom and Ricotta Cheese Tortellini.
Jump to:
Ingredients
Store-bought tortellini- We buy the two packs of Kirkland Five Cheese Tortellini from Costco, but any store-bought (or homemade!) variety works. This recipe would work with ravioli as well.
Cherry or grape tomatoes
Red bell pepper
Fresh garlic
Fresh basil
Lemon juice
Heavy cream
Parmesan cheese
Other ingredients: olive oil, salt, crushed red pepper, and black pepper
See recipe card for amounts.
Instructions
Step 1: Cook the tortellini according to package instructions. Reserve a cup of pasta water before draining the pasta.
Step 2: Add olive oil to a large pan over medium heat. Once warm, add the red peppers and tomatoes and cook for 6-8 minutes, stirring occasionally, until the tomatoes are blistered and the peppers are soft. Then add the garlic and cook for 30 seconds.
Step 3: Transfer the contents of the pan to a food processor or blender, then add the basil, lemon juice, salt, black pepper, and crushed red peppers. Blend until smooth, then add the mixture to the pan and put over medium-low heat.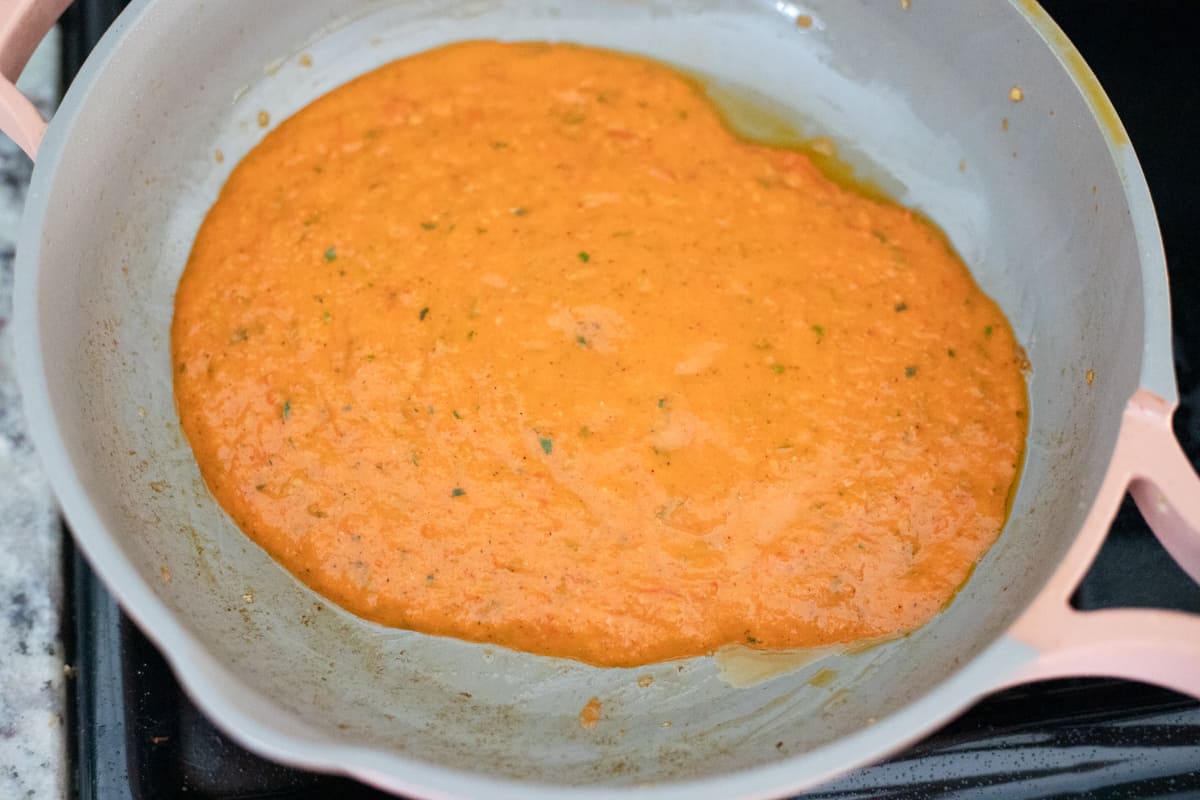 Step 4: Add heavy cream to the pan and cook, stirring occasionally, for 3-4 minutes, or until the sauce thickens slightly. Then add the reserved pasta water and cook for another 2-3 minutes, until the sauce thickens again.
Step 5: Transfer the drained pasta to the pan with the sauce and mix until the pasta is coated. Then add the parmesan cheese and mix until melted and combined.
Garnish with basil and extra parmesan cheese if desired.
Variations
Add chicken or shrimp
Cook extra tomatoes and add them in at the end (instead of pureeing them all)
Add extra veggies
Swap out the tortellini for ravioli
Frequently asked questions
Can I use milk instead of cream?
We tested this recipe with whole milk instead of cream, and the sauce just wasn't the same. It tasted great, but the creaminess just wasn't there. Feel free to try it for yourself, but the cheese doesn't combine with the milk in the same way.
Can I use a different kind of pasta?
You can! Ravioli would also work well. We use five cheese tortellini, but you could use a different type of tortellini as well!
What should I serve this red pepper pasta with?
Feel free to add a protein (chicken or shrimp would be great) to the top of this pasta, or serve it with a side salad or vegetables. Asparagus, broccoli, and Brussels sprouts all come to mind as great options.