This air fryer tequila lime shrimp is so fast and easy. Pop your shrimp into a baggie with a quick marinade, let it sit for about an hour, then air fry it for less than 10 minutes for super flavorful, perfectly cooked shrimp. It's so juicy and delicious.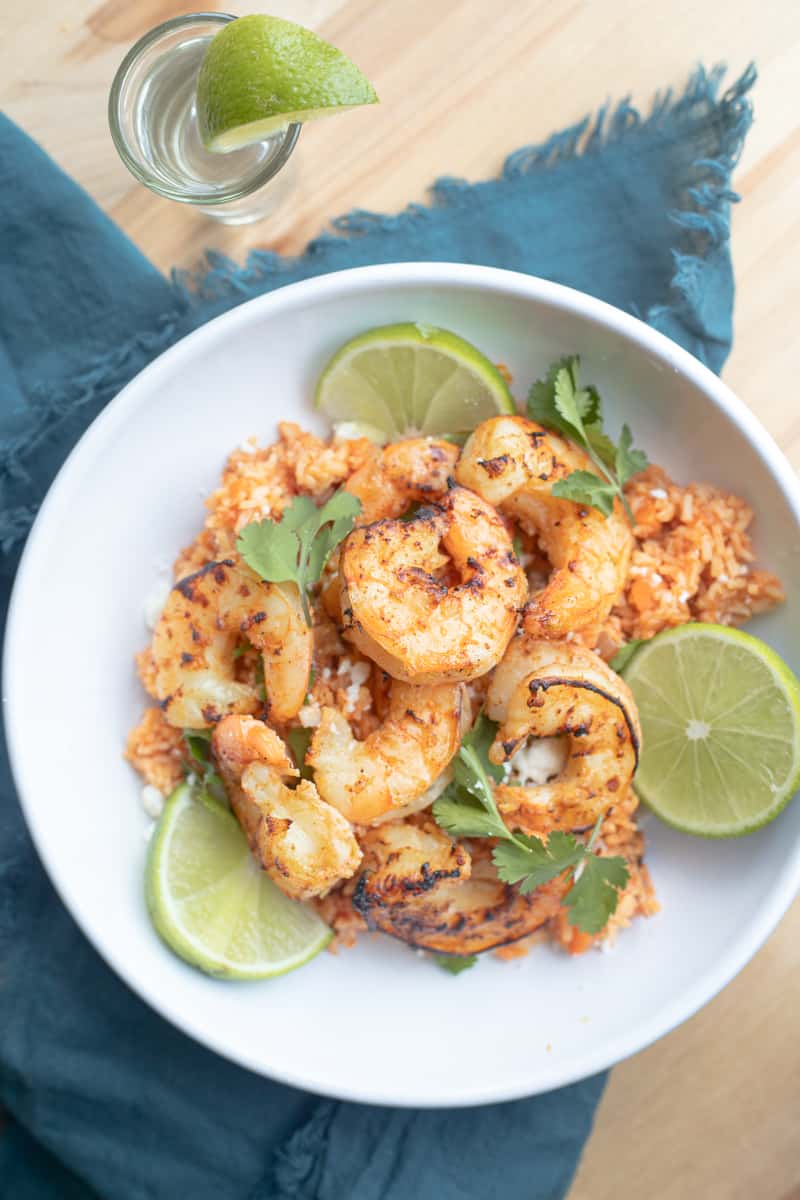 This tequila lime shrimp is the best air fryer shrimp recipe. It's so simple and quick and there's minimal cleanup because you only need a Ziplock baggie and an air fryer to make it. It's a lot like Baja shrimp that you might find on a restaurant menu, but it's the homemade, super simple version.
Looking for other shrimp recipes? Try our shrimp and pesto pasta, air fryer coconut shrimp, or teriyaki shrimp. For other air fryer recipes, check out our air fryer salmon bites, air fryer BBQ brussels sprouts, or air fryer bacon wrapped dates.
Jump to:
Key Ingredients and Substitutions
Shrimp- We use wild-caught extra large shrimp. You can use fresh or frozen, but make sure it's fully defrosted before marinating. You'll also want to peel and de-vein your shrimp prior to marinating.
Tequila- We use blue agave tequila. You can use whatever kind of tequila you have on hand.
Honey
Garlic
Orange- The marinade has orange juice in it. We prefer to use fresh squeezed, but if you already have orange juice on hand, you can use that.
Olive oil
Spices- chili powder, garlic powder, salt, black pepper, cumin, onion powder, ground cayenne
See recipe card for amounts.
Instructions
Step 1: Add shrimp, tequila, honey, garlic, orange juice, olive oil, and spices to a large ziplock baggie and shake to combine. Place the baggie in the refrigerator and allow the shrimp to marinate for at least 15 minutes and up to an hour.
Step 2: Place the shrimp in the basket of your air fryer, being careful not to overlap them. Discard the marinade. Air fry them at 400°F for 4-6 minutes, or until cooked through and slightly browned on the edges.
Step 3: Serve! We love this shrimp over rice, in tacos, or by themselves with vegetables.
Serving Ideas
Here are some ways we like to serve this tequila lime shrimp:
In tacos- This shrimp is great packed in a flour tortilla with cabbage, fresh salsa, guacamole, and queso fresco.
Over rice (or a rice substitute)- This shrimp is super good with coconut rice, or if you're looking for a rice substitute, we love it with our cilantro lime hearts of palm rice.
With veggies- We love this shrimp with spicy brussels sprouts, broccoli, sautéed peppers, or broccoli.
Over a salad- This would be great over our classic wedge salad.
Frequently asked questions
Can I line my air fryer basket with something to keep it clean?
We line our air fryer basket with disposable paper liners, but it still gets a little bit dirty. You can also try silicone liners or aluminum foil (if your air fryer allows it). Just keep in mind that covering the bottom of your air fryer may affect the way your shrimp cooks.
Is this shrimp spicy?
It's not necessarily spicy, but it has a slight bite to it. It wasn't too spicy for our infant, however.
How do I store and reheat this shrimp?
Store the shrimp in an air-tight container in the refrigerator for up to 3 days. To reheat, pop it in the air fryer at 400°F for 2 minutes.