This pizza sheet pan eggs recipe is super easy and feeds a crowd. It's loaded with pizza ingredients like mozzarella, marinara sauce, pepperoni, and creamy ricotta cheese, so it's just like eating pizza for breakfast. As an added bonus, it's gluten free and low carb.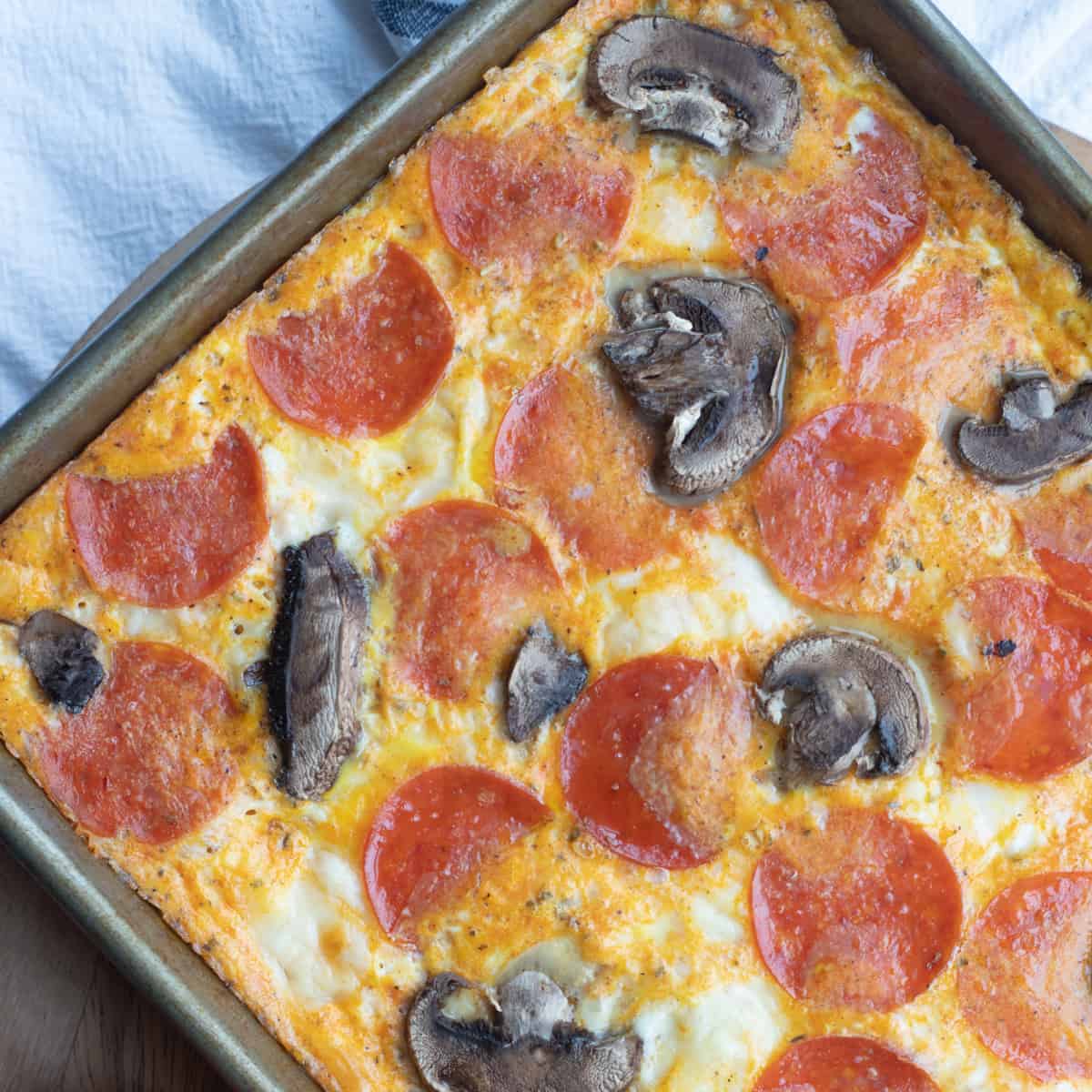 These sheet pan pizza eggs are the perfect savory breakfast. They're kind of like breakfast pizza but without the crust. All you have to do is whisk eggs with some cheese and marinara sauce, dump them into a sheet pan, and top them with cheese and your favorite pizza toppings. They're so simple and one batch will feed your whole family.
Looking for other great breakfast recipes? Try our egg and sausage gravy casserole, cottage cheese avocado toast, hash brown patty avocado toast, thin stuffed omelette, or cinnamon sugar bread french toast.
Jump to:
Key Ingredients and Substitutions
Eggs- We use pasture-raised eggs. They really do taste so much better.
Ricotta cheese- We use whole milk ricotta. Buy fresh if you can!
Marinara sauce- We love Rao's. Use whatever brand is your favorite.
Shredded mozzarella cheese- We used pre-shredded. We usually recommend shredding your own cheese, but in this particular recipe, pre-shredded cheese works fine. We use Tillamook.
Sliced provolone cheese- You can omit this and use your favorite kind of cheese, but the provolone makes these pizza eggs super creamy and cheesy.
Your favorite pizza toppings- We use pepperoni and mushrooms, but any typical pizza ingredients would be great. Check out some of our suggestions below.
Other ingredients/spices: salt, black pepper, Italian seasoning
See recipe card for amounts.
Step-by-step Instructions
Step 1: Preheat your oven to 325°F.
Step 2: Add eggs, ricotta cheese, marinara sauce, shredded mozzarella, salt, pepper, and Italian seasoning to a large mixing bowl. Whisk until everything is combined and smooth.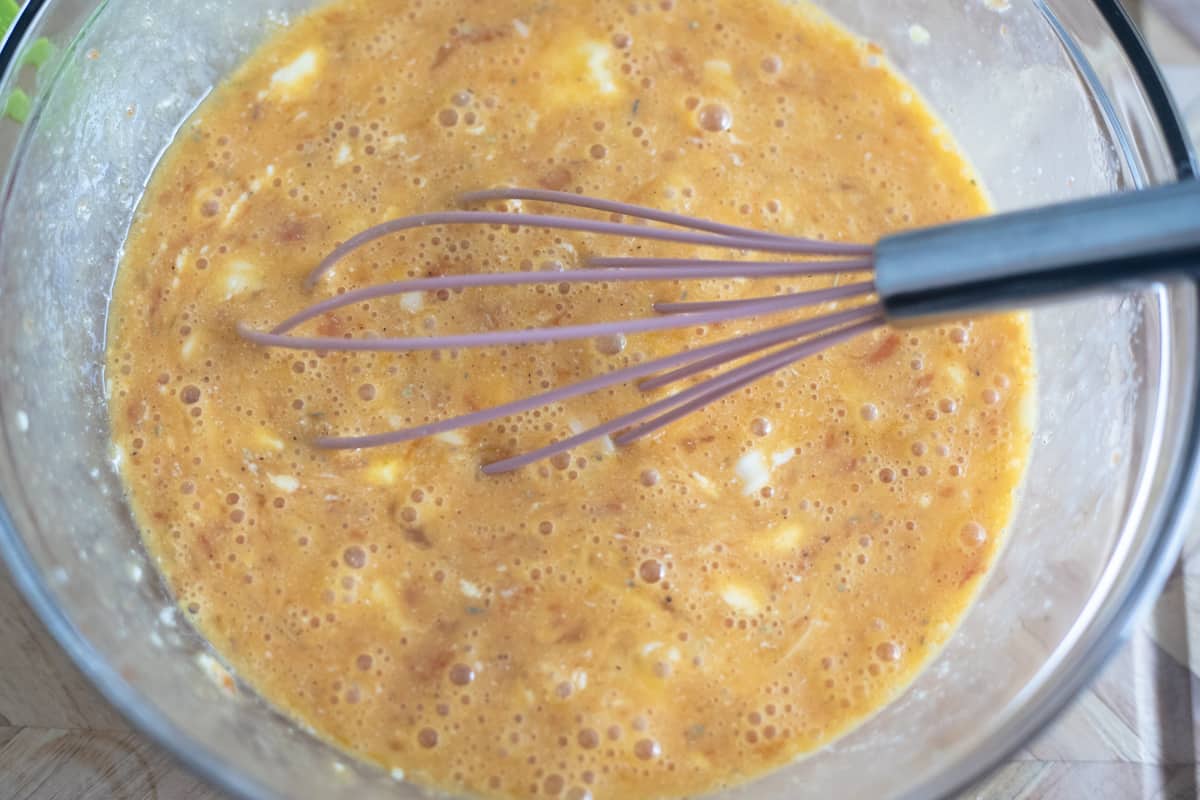 Step 3: Generously grease the bottom and sides of a rimmed half sheet pan (18x13"). Pour the egg mixture into the sheet pan. Top evenly with mozzarella, provolone, and your desired pizza toppings. We used pepperoni and sliced mushrooms.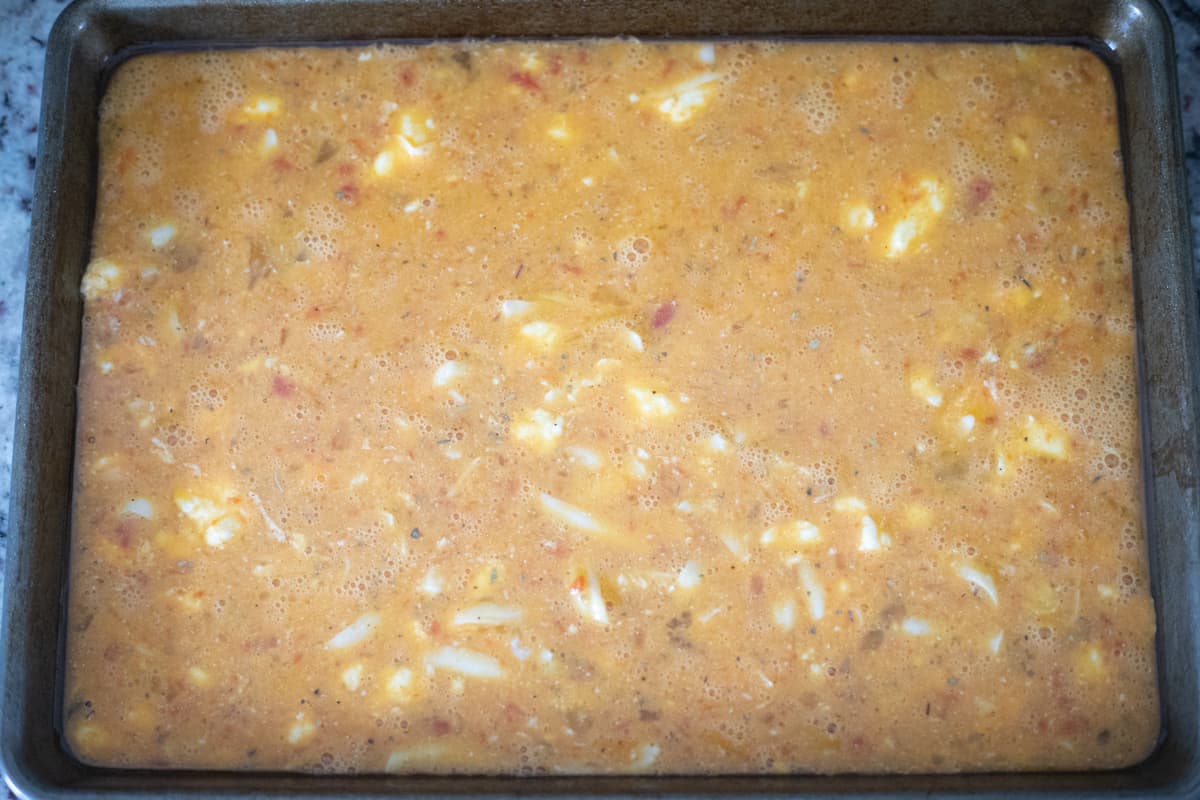 Step 4: Bake for 15-20 minutes, or until eggs are completely set. Cut into squares and enjoy with extra marinara sauce on top.
Topping Ideas
Pepperoni and mushroom
Supreme pizza with pepperoni, mushroom, onion, green pepper, black olive, and sausage
Hawaiian pizza with ham and pineapple
Tomatoes, basil, and extra mozzarella (add fresh basil to the top after the eggs have finished cooking)
Plain cheese- just add extra cheese!
Frequently asked questions
How do I keep my eggs from sticking to the sheet pan?
We grease our sheet pan VERY well with avocado oil spray and use a hefty spatula to get the eggs out. If you still find that your eggs are sticking, try lining your sheet pan with parchment paper and greasing the top of the paper.
Can I make these pizza eggs ahead of time?
We wouldn't recommend it. They're best when they're fresh, and they don't take long to throw together anyway. If you have leftovers, you can store them in an air-tight container in the refrigerator for 2 days or so. Reheat them in the microwave for about a minute.
Can I halve this recipe?
Yes! Use a quarter sheet pan instead of a half sheet pan and cut the recipe in half. Michael and I do this frequently when we're just cooking for ourselves.